0.3mm-3mm x 1300mm leveling&cut-to-length machine (for reference)coil car
1:1Form of coil car: four-wheeled walk
1.2 Structure of coil car: steel structure and it is V-shape on top.
1.3 Power of continuous walk:2.2kw cycloidal gear decelerator
1.4 Power of lifting and lowering:hydraulic cyliner driven ф160mmx700mm
1.5 max journey of lifting and lowering : 700 mm
1.6 Max loading capacity : 20ton
1.7 walking speed : 7-48m/min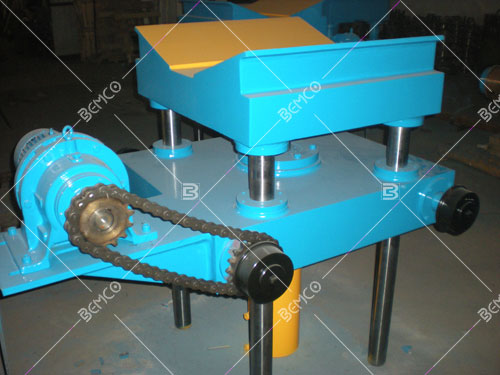 2.Single mandrel uncoiler:
2.1 Supporting the coils and doing uncoiling. The capacity is 10Tons(max).
2.2 It adopts the hydraulic oil cylinder to make the decoiler expandable and fit to the inner diameter of coils. It is equipped with the cantilever.
2.3 40N.m moment motor drive the coils running and can do forward and reverse running as well as do the decoiling with tension.
2.4 The core can ensure the expand range φ508 of the coils inner diameter.
2.5 Structure: welding by the steel plates and profiled bar.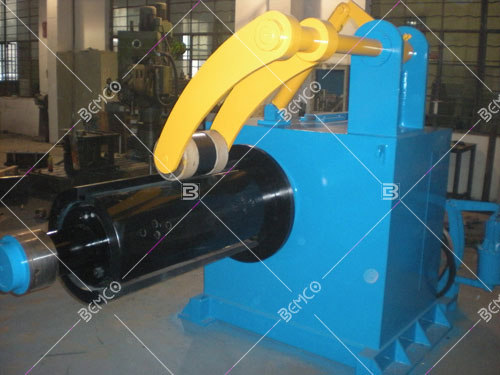 3.sheet guiding and sheet pressing,shoveling head
This device is used to assistant uncoiling. Driven by motor, drawing rolls draw coil head to shoveling board and then to feeding rolls.
3.1 Form of sheet head guiding structure: steel made structure
3.2 Form of pressing: hydraulic oil cylinder driven
3.3 Motor power for sheet guiding:3kw
3.4 Hydraulic cylinder specification for sheet guiding :ф80mmx500mm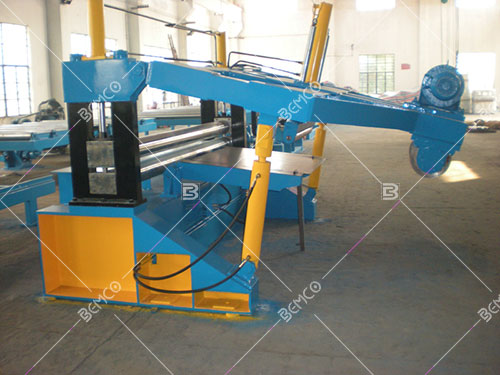 pre-levelingdevice
4.1Rolls form:double pinch rolls feeding
4.2 specifications of pinch rolls;ф60mmx1400mm
4.Leveling roll material 42CrMo,intermediate quenching,heat processment,HRC58–60
4.4Oil cylinder for pinch rolls tightening:Φ80×100mm
4.5 Drive motor'55KW DC motor,distributor and joint coupling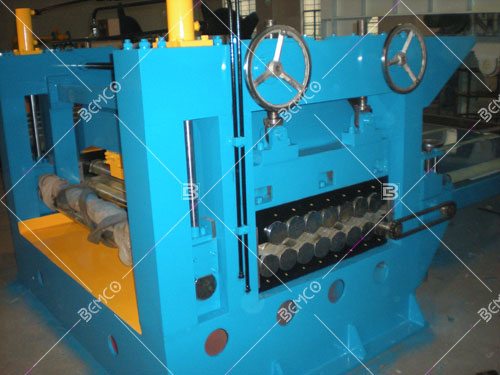 5:pit(loop)
5.1 Pit size:5mx2.2mx3m(LXWXH) made by the customer on the base
5.2The main Function is the coil storage and as well as to protect the coil against damage on the ground
6:center alligning unit
6.1Adjustable width:300mm—1300mm
6.2Roller processment:HRC50–54
63Vertical rolls :4pcs
6.4 manual adjustment
Precisionleveling machine
7.1Form:2+5+2 rolls leveling
7.2Leveling rolls diameter:ф160mmx1350mm
7.3Material of leveling rolls:42CrMo quenching HR58–60degrees
7.4Leveling power:13.5 kw ,Lenzen brand servo motor with reducer ,made in Germany
7.5 pressing motor:1.5kw
7.5reducer:Lenzen band made in Germany
7.6levellingg speed:0–110m/min
7.7lubrication:grease gun spray oil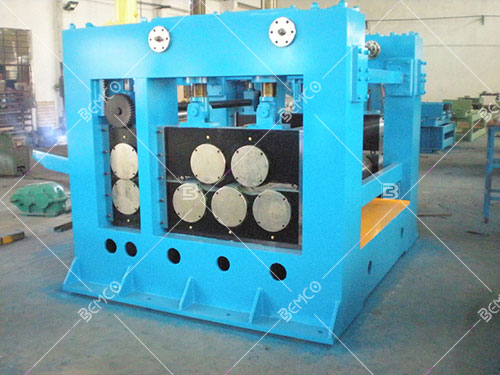 8.sheet Shearing machine
8.1Max shearing width;1500mm
8.2shearing thickness:max 3mm
8.3Shearing accuracy:≤±1.50mm/2m
8.4 working speed:20–30pcs/min(according to the sheet length 2 m)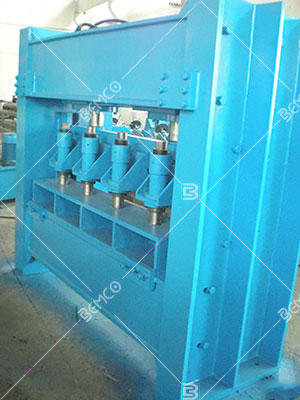 9:sheet transmission table
9.1It is consist of transmissioning rolls,transmissioning belt and machine frame.
9.2Its function is to put the cut sheet into the sheet drop table
9.3 power:2.2kw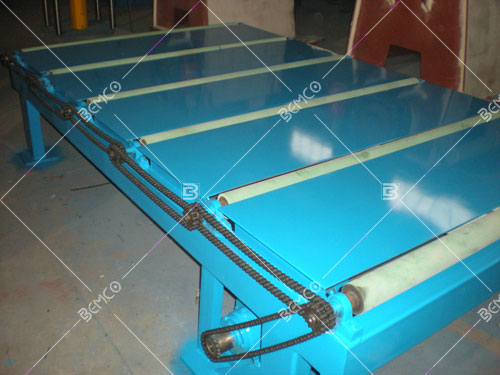 10.lifting and lower stacker platform
10.1 form of stacking:pneumatic
10.2Side pneumatic cyliner specification:80x100mm,2pcs
10.3Horizontal pneumatic cyliner specification:50x150mm,2pcs
10.4 max stacking weight:5T
10.5Max stacking height:≤350mm
10.6 power:1.5kw
10.6Stacking length:1000mm—-12000mm
10.7stacking power:2.2kw
10.8its function of the stacker  is stack sheet outside the line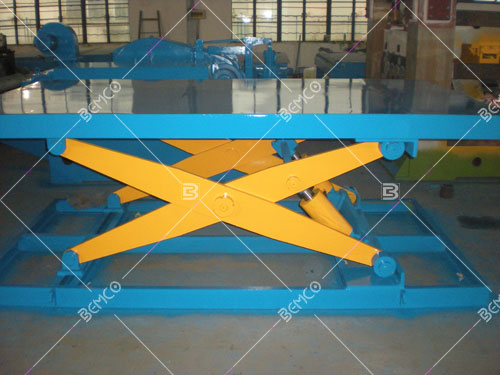 11.sheet unloading car
11.1 qty: 2pcs
11.2 its function is to take the stacked sheet outside for packing and transportation
11.3 power:2.2kw
12.hydraulic control system and pneumatic control system
12.1.1hydraulic system is made up of hydraulic stations and accessory parts.The main valves is from Taiwan brand
12.2It can supply all machines hydraulic oil and cylinder pressure
12.3Power: 4–7.5kw
12.4rated pressure:10Mpa
12.5Flowing volume:20L/min
12.6 tank volume:400L
12.7hydraulic oil available: 46#
12.8Oil temperature:-5—70°C
12.9pneumatic control system
12.10 Using pressure:0.8Mpa
12.11Volume:0.9L
12.12All of the pneumatic parts are made in China and from famous brand
13 electrical control system
13.1.1Power supply:440V,60Hz or design according to the customer local standard
13.2PLC control is Mitsubishi brand,Japan and human-interrative touch screen from Taiwan to realize the whole line control
13.3 we adopts servo motor control system,made in German Lenzn on the shearing part and leveling machine part
13.4 controller is Eurotherm 590 made in UK
13.5we adopt the touch screen to adjust the machine speed, sheet qty and sheet length
13.6Mail electrical parts are from Schneider brand
14.The items the buyer prepares
14.1 the whole power supply and switches
14.2 the total wires and lines
14.3 lubricant oil and hydraulic oil
14.4 rails for coil car
14.5 worktable materials
14.6 the layout  direction will be from the left to right