Our new workshop  Fresh machines will coming soon!
Bemco open a brand new workshop and new employees to offer better service for our client.
From now on , the new orders will produce in the new workshop, the new workshop cover 3000 square and four layers of offices.
Compare with our previous factory, the new one is located in the ind zone and close to many material supplier , that is easy for us to short the delivery time and more strict on the quality control on third part material supplier.
As a leading company in the roll forming industry. We are innovating on the roll forming and other machines, not only the quality is at the top lever but also the services from the fist email or call till the end of our machine.
Sometimes  some of clients asking me why the price is higher than other manufacturer in china.There is an old saying that : there is no such thing as a free lunch!
I believe that you get what you paid no matter what kind of product it is.  In our field, for example , if you stick on the cheaper price , then what will get ? Think about it ! Saying is just saying  ,not guaranteed !
Below picture shows what they do to cut the cost on the roll forming machine —hollow shaft, that 's why the machine is cheap, this is only one simple part on the machine …
At Bemco, we don't have this kind of "cheap" roll forming machine , every part is real and durable , we guaranteed all the parts are well selected and tested.  And our machine is adopted the newest technology and new designed,our machine is different from many parts ,even you can tell from the appearance.Below is our new kind of  3 Ton passive decoiler. It is much better than any others in china.This is one simple part of our roll forming machine, so image a big picture of our roll forming machine , we only offer the quality machines !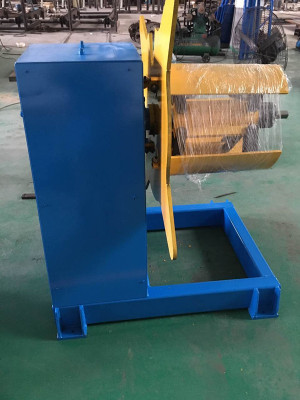 New factory , new start, fresh machines,now visiting us at any time !