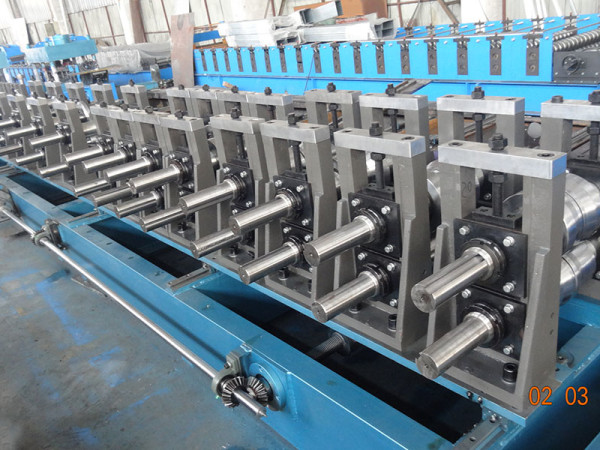 Roll forming lines basic and advance
Roll forming line is a complete production line for manufacture of desired metal section profiles. A roll former or roll forming machine is a simplest roll forming line, a roll forming line is  composed of roll forming machine and many value-added equipments to achieve different metal forming operations such like notching, slotting,perforating,welding and other secondary operation. The basic roll forming line is divided into four sections.: entry section, forming section, cutting section, finish section.
Entry section: The entry section is for the material loading and feeding, usually the material is continuous feeding in coils.This section is combined of uncoiler, guiding and leveling device
Uncoiler is optional with manual passive type,hydraulic uncoiler, the loading car is optional for loading the coils. The feeding device can be integrated as passive type or automatic servo feeding with motor.
Forming section: The forming section is combined by machine base,roll tooling stands, roll form toolings, main drive and rafted cassette system.
Machine base is welded by high strength heavy gauge carbon steels, the whole structure is designed for heavy duty load-bearing. There are two different structure ,integrated type and split type.
Roll tooling stands is fixed on the machine base to fasten and support roll form toolings. There are three basic types of roll tooling stands : integrated type ,s series and M series. Integrated type is a whole steel plate welded on the machine base, it is a whole structure can't be break down. S series is one kind of split type roll tooling stand, all the parts on the stands can be break down into parts. The M series is for the heavy duty roll forming, the stands are originally a cast steel design , the cap and shaft ,bearings are mounted and can be break down easily.
Roll form tooling are combined by rollers and shafts. The material of the rollers are selected depends on the product material , CNC machining , heat treatment and chromed. The rollers are durable and accurate , ensure the tolerance and quality . The shafts are CNC machined from high strength steel.
Main drive system are combined by main motor ,reducer and transmission system. Main motor and reducer can be designed concealed or visible, the power is upon the roll forming product.There are two basic transmission way , by chain or by individual gearbox
The cutting device is divided into stationary cut and flying cut .There are two different power for cutting , hydraulic cutting or saw cutting.It can be designed post-cutting or pre-cutting.  It all depends on the roll formed product.
In-line punching is one value added operation, it can be designed as Post-punching or pre-punching. It all depends on the roll formed product.
The collecting section is what we call run out table , it can be designed as passive type and automatic stacker,all depends on the requirement from client.
Roll forming advance
Nowadays the cost on labor is become a challenge for a company, so it is required that a machine can be automatic control without hands. The CAD/CAM must be come into play. Roll forming also can be controlled by program automatically, by set and change data on the touch screen.